I know we have tons of very talented auto-flower growers in this forum, and I wanted to tap into your knowledge! We are making a new page for the website about training autoflowering cannabis strains, and I was hoping you would all share your experience!
For those who don't know:
An
auto-flowering marijuana plant
automatically starts making buds about 3-4 weeks from germination, and most are ready to harvest by the time they're 3 months from seed. You generally only get auto-flowering
seeds
from a reputable breeder.
Some Excellent Auto-Flowering Cannabis Breeders:
Mephisto <-- Over the last few years this breeder has really taken off with amazing auto-flowering genetics, highly recommended
There are 3 main schools of thought when it comes to training autos:
No training - Since autos only stay in the vegetative stage for a few weeks, if you stress your plant through training, it may end up very stunted. A stunted plant produces very low yields. As a result, many growers recommend no training at all when it comes to auto-flowering marijuana strains
Low Stress Training (Bending) - The idea behind low stress training is to force the plant into the shape you want by bending all new stems and tying them down. The advantage of sticking only to bending is it's very low stress (hence the name) on the plant. There's almost no chance of stunting from simple bending. However, with LST you don't have the same full control over the plant's shape as you do when you actually "top" the plant (split the main cola into two)
Top the Plant - This is when you cut off the very top of the main stem when the plant is young, so that it grows two main stems instead of just one. Although you can top a plant without stunting it, it's possible that topping an unhealthy plant may contribute to stress. I personally haven't seen a whole lot of evidence that topping will cause stunting unless the plant was already sick.
Just about everyone seems to agree you don't want to do aggressive training on an auto-flowering plant, for example you wouldn't want to make a
manifold
which takes several weeks in the vegetative stage to set up. You just don't have enough control over the vegetative stage length to take full advantage of that kind of technique with auto-flowers.
Example of a Stunted Auto-Flowering Plant
These auto-flowering plants were stunted when they were young by heat and overwatering. Now they've already started flowering and are just a few weeks from harvest. Even though they have a plentiful amount of light, at this point the plants are not going to get any bigger no matter what the grower does because the vegetative stage is over, and the flowering stage is already under way.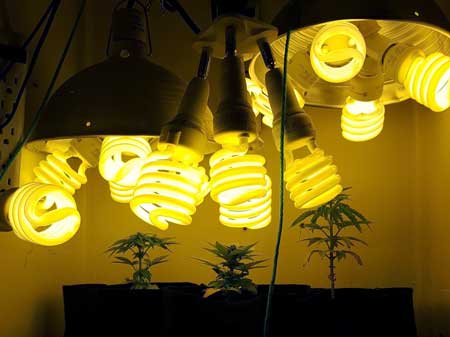 Here's a closeup of the middle plant. You can see by the bud development that it's just a few weeks from harvest. Since it's this far in the flowering stage, you know that the plant is not going to get any bigger. The buds will fatten up, but even if they tripled in size, the grower would only get a few grams of bud. The plant just isn't big enough to support bigger yields.
This is why many growers recommend no training for auto-flowering plants. They're trying to avoid stunting. But in the above example, the plants weren't even topped. They were stunted from heat and overwatering, not training. So I think the main point is to avoid stressing the plant when it's young, not something as black and white as just "no training allowed."
Untrained Auto-Flowering Plant
Here's an untrained auto - with good care and a lot of light, they can produce a whole lot of big buds without any training!
Low Stress Training on Autos
Here's an example of someone LSTing an auto-flowering plant by bending over the main cola when it was young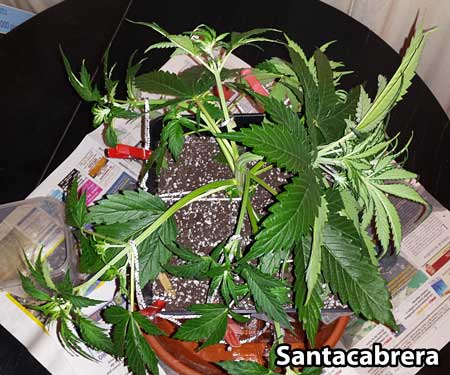 These autos weren't topped. I only used bending and securing to try to keep them wide with many colas. I was happy, but it was a big pain trying to keep them flat. It's just a lot easier to keep plants flat when you top them, since it splits them and you can lay each side flat.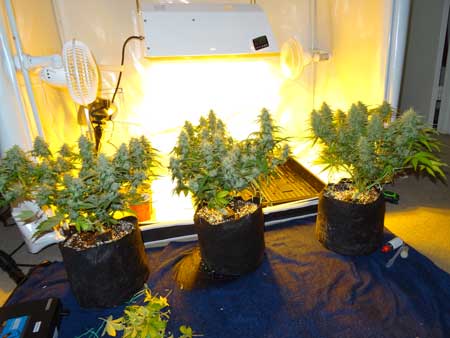 Without topping you end up making a "spiral" with the main stem to keep it as short as the rest. Here's the "skeleton" of one plant to give you a better idea of what the training looked like underneath
Topping an Auto-Flowering Plant?
If a plant is really fast-growing when it's young, if you cut off the very top, the plant can usually recover without being stunted. However, many growers recommend against topping an auto because stress will stunt your plant. I personally think
topping autos
usually works as long as you make sure your plant is healthy and fast-growing before topping.
To be honest, I believe other factors like
overwatering
or a poor
environment
are
much
more likely to stunt an auto-flowering plant than topping, especially if you're cutting off just the very tip of the plant, and not removing much plant matter.
I've seen that many of you (check out photos from
Green75
for some great examples!) who have gotten great results topping your auto-flowering plants. I've also seen many growers here get incredible results with either no training or just low stress training! So I definitely think you can succeed with any training style!
What are your tips on training auto-flowering plants?
So what do all the auto-flowering growers think? Do you have brag-worthy auto pictures that you'd like to see published? What's worked best for you?