Hi I'm currently flowering a mother plant, in week 5 of flowering, since week 1 been having trouble with lower leaves turning yellow. They eventually wilt, go brown curl up and die. Usually they pull off easily. Lost quite a few this way and the problem is working its way up to the top leaves.
I read about nitrogen deficiency so have been feeding extra nutrients, including calmag supplement, but problem still persists.
​​​​​​Leaves start to turn yellow at the stalk and spread down leaf. Not had this problem with the regular plants, is it because it's a mother? Any help much appreciated.
Growing in coco
600w led
Feeding 5l water every 2 days with
-20ml Canna a+b,
12.5ml Cannazym,
7.5ml pk 13/14
20ml Cannaboost,
5ml CalMag supplement
pH water to around 5.5-6.0 after adding nutrients
Around 21-15⁰c and 45-55% humidity
Early stage of yellowing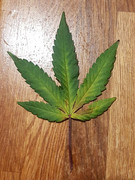 Later stage. Some leaves turn much yellower, then turn brown, shrivel up and die