Everyone has their own ideas about defoliation! If you ask 10 different growers, you'll get 10 different answers! And you'll probably find at least one person who claims it doesn't work at all!
But I'll share my own personal technique.
I don't remove leaves in veg to the same extent I do in flower. I may
manifold
my plants, which does involve some defoliating as you build the manifold. Other than that, I focus on getting the shape of the plant correct, and making sure there's multiple main stems under the grow light. Any defoliating I do in the vegetative stage is just to thin out the plant if it starts getting really bushy. One of the main reasons for me is to prevent
White Powdery Mold
which is common when you have leaves laying on top of each other. I want to make sure there's always airflow through the middle and under the bottom of the plant. In my opinion, if you can't see through the plant at all, and there's no light getting through to the bottom, it's too bushy for proper airflow.
I don't give special nutrients for training. If anything, I'm reacting to the plant. If it's not getting bushy from the nutrients, then you don't need to defoliate. If you're giving good nutrients and a good growing environment, with most strains you'll end up with some bushiness that needs to be removed for optimal growth indoors.
For me, I don't really aggressively defoliate until I'm in the flowering stage. Right before the switch to the flowering stage, I'll usually remove all the leaves and tiny growth tips on the bottom parts of the plant that aren't getting light anymore, if that's necessary (lollipop the plant). I believe this is important to do right before the switch to flowering so the plant is putting all it's effort into the top bud sites instead of the lower bud sites that will never grow into big buds no matter what you do..
I will also strip off most of the biggest fan leaves right before the switch to 12/12, leaving just the top few nodes of each cola untouched, so the plant is almost "all bones". I leaves some few extra leaves at the top of each cola because I believe it helps power the growth of the colas during the flowering stretch so they get as long as possible

Immediately before switch to 12/12 - Before & After
Week 3 after the flip to 12/12 is my last major defoliation. This is what that plant looks like 3 Weeks Later (of not doing anything or taking leaves in that time)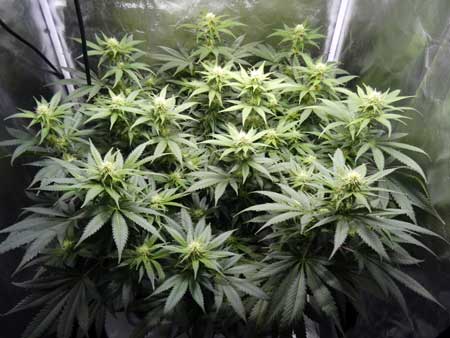 Usually by around week 3 the budlets have formed. At this point I again remove ALL the major fan leaves. After that, I'm done with the majority of defoliation that I do. I only remove leaves after that if they're covering a bud site (and I can't tuck it away) or if the plant starts getting too bushy through the middle and bottom.
7 Weeks later I harvested this

So basically, my (personal) defoliation could be summed up like this:
Vegetative Stage
Some defoliation while manifolding (If I choose to manifold, I've been experimenting with Sea of Green setups lately, which involves almost no early training!)
Defoliation of middle of plant if you can't see light coming through it (if the middle is completely dark it means the plant is too bushy)
Right Before Switch to 12/12
Lollipop the plant (remove leaves in the lower part of the plant that will never get light)
Thin out the middle if it's bushy
Remove ALL major fan leaves
Week 3 after switch to 12/12
Do another major stripping of just about all fan leaves.
After that, I remove any huge fan leaves that can't be tucked, but otherwise just wait until harvest

OH woaw , you motivate me sm

Can you ever get in trouble for growing cannabis?